The latest evolution of the R31World GRK RC Drift chassis is here! Since the first generation of the GRK back in 2011 we have seen a number of versions that enhanced the overall design.  Previous GRK series RWD models initially designed an AWD model and then rearranged it for rear-wheel drive. Its operability and swingability are top-level in the competition world and have been used by many drifters. "If you design exclusively for RWD, will the ultimate drift machine be born?" With that in mind, GRK4 abandoned the tradition of sharing with AWD models and designed exclusively for RWD to pursue controllability in drift Did. By splitting it exclusively for RWD, it is possible to mount the battery and motor closer to the rear than previous models, achieving both traction performance and turning performance at a high level. The vertical upper deck attached to the center of the chassis enhances the pitching rigidity in the front-rear direction and induces appropriate roll.
The GRK has been a popular chassis for entry level and expert RC Drifters. We were very impressed when we reviewed the GRK Global chassis (click here for the review), this new GRK4 has some fantastic new design features that should translate into better performance.
The new GRK 4 features a state-of-the-art curved steering rack (with inclined angle) and a fully adjustable front aluminum cup that can be freely adjusted in alignment. The arm type is adopted to obtain the optimal grip balance for rear arms.
Upper and lower arms and damper stays are also equipped with newly designed aluminum parts as standard equipment. With a newly designed air dam front bumper connected from a distinctive nose cone bulkhead.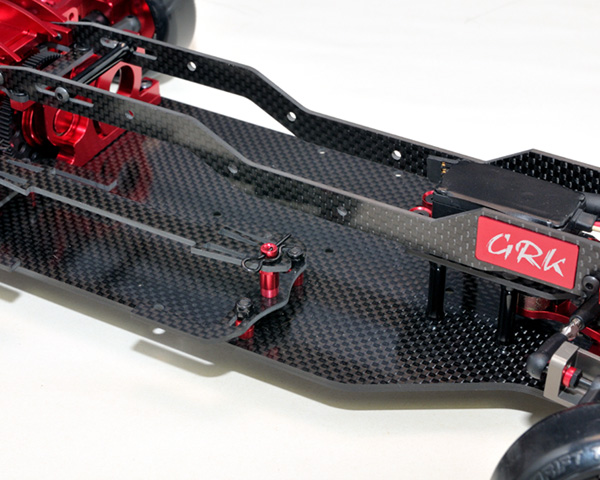 The motor and battery are mounted about 8mm behind GRK3. Traction performance has been improved by the weight distribution closer to the rear.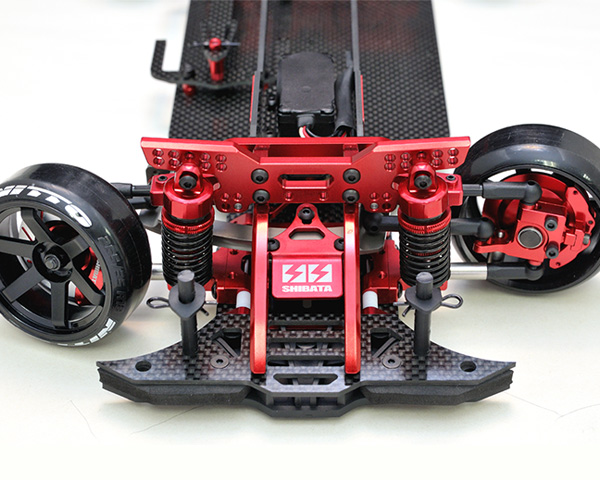 The steering rack is located closer to the front than GRK3. It is easier to set the Ackerman angle suitable for drifting.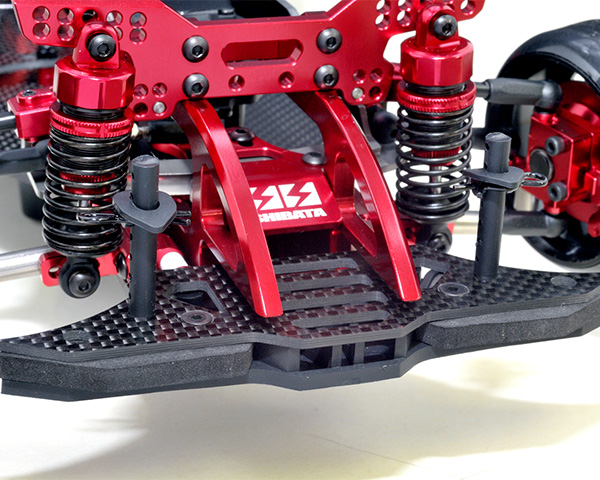 The front bumper, called the "air dam bumper", has the effect of rectifying the air flow with internal fins and improving the grounding of the front wheels.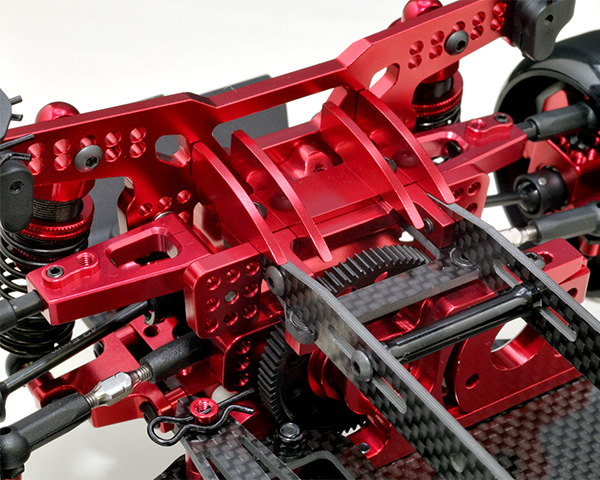 Posts connecting the two upper decks can be mounted at different positions. In addition, the fin plate that prevents deflection of the rear shock tower is structured to be removable.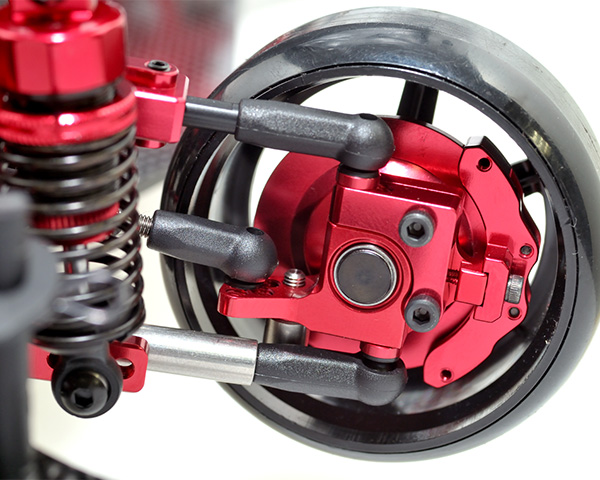 Equipped with a multifunctional knuckle that can adjust the kingpin and trail angle. Aluminum wheel hub adopts brake disc type like GRK3.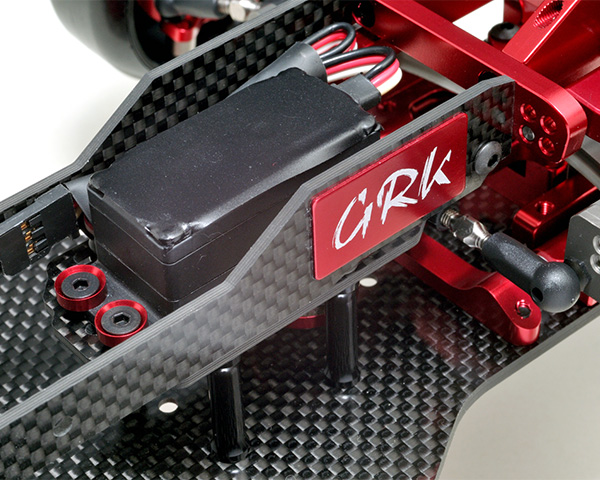 The steering servo adopts a floating mounting method. The mounting plate has a long hole treatment so that it can be adjusted back and forth.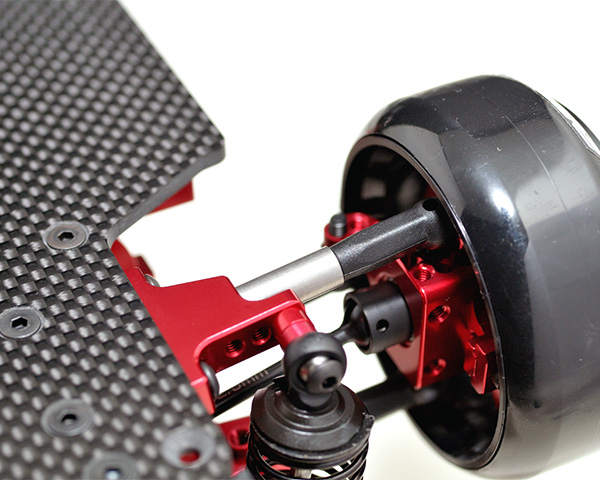 In order to reduce the rattling of the suspension arm, the cross section of the shaft is cut into a D shape.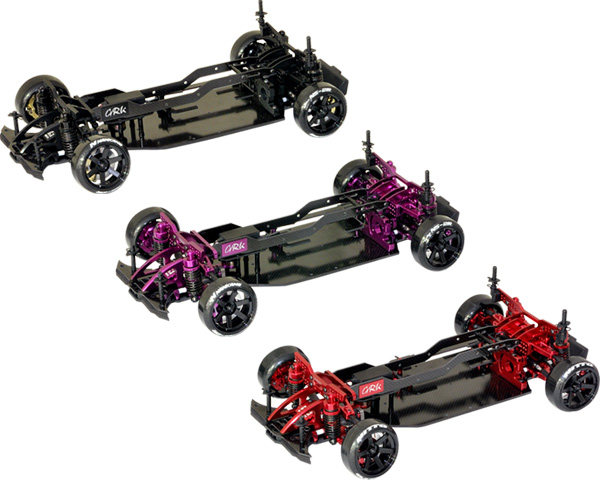 There are three color variations: black anodized, purple anodized (glossy), and red anodized (glossy).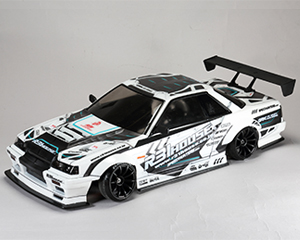 A body kit that faithfully reproduces the R31 Skyline participating in a real car drift event. G-POWERCONCEPT
Source: R31World/R31House